I Inherited a House
and How to Sell the House Quickly
Relief from the Burden of an
Unwanted Inherited Property
For some, inheriting a deceased estate property can be a blessing. For many, however, trying to deal with an inherited property lends itself to a host of difficult financial and legal obstacles — especially if multiple heirs are involved.
If you've just inherited a house, you're most likely still in the process of grieving the loss of your loved one. On top of that, you may not even want the house. It may be too far from where you live, in poor condition, or just not suited to you or your family's needs.
Regardless, Ezer can help you navigate through all of these situations and answer any questions you have along the way.
Selling a House You Inherited

Figuring Out the Estate
Before you can take the next steps, it's important to know exactly how ownership of the deceased estate property has been distributed, whether it's via probate, a transfer on death deed, or a living trust. This will determine the number of heirs, as well as who has the ability to make decisions regarding the property.
Can I Sell a House I Inherited?
Sometimes a house left to you just doesn't fit into your life. Luckily, inheriting a house in a trust or probate doesn't mean you're stuck with it. There are plenty of ways to go about selling the deceased estate property both during and after the probate process. And, if you have a transfer on death deed or were named executor in a living trust, you can sell without going through probate at all!
We'll Make the Process Fast and Easy
If you're looking for the quickest way to sell an inherited house in Texas, you're going to want to avoid the real estate market. Try Ezer instead: we buy homes for cash, with no commission fees or closing costs and almost no waiting period. We've worked with plenty of heirs in the past, and we're confident we can help you too. Contact us by
clicking here
or call/text us at (940) 257-6522 to get started.
What Can I Do with My Inherited House in Texas?
Get in touch with us to get to speak with a rental specialist and learn about all your options.
Common Problems or Questions About Inherited Properties 
You probably never imagined you would ever be responsible for choosing what to do with a deceased estate property. This responsibility can be especially tough if you aren't fully aware of what options are available to you in the first place.
What is probate?
Probate is the legal process during which a court formally distributes a deceased person's assets among one or more beneficiaries. Inherited properties often fall under a lengthy probate period (sometimes up to two years long) if ownership hasn't already been specified in a transfer on death deed. If you've been appointed as the executor or administrator of the will, contact us to know more about how to sell a house in probate and how long the executor has to sell.
I'm not the only heir.
If you inherited a house with multiple heirs, it's important to make sure you're all on the same page about whether to sell the house and how to split the proceeds of the sale. Ezer works with the other heirs to create a solution that suits everyone and can even offer to buy their portions of the property from them.
Do I have to get the house "ready to sell"?
We buy houses "as is," which means you don't have to do anything to the property in order for us to buy it. We handle all repairs and renovations after the sale has already gone through, and you won't have to worry about staging or decluttering the house beforehand.
How long does the probate process take in Texas?
The probate process in Texas can take anywhere from a few weeks to a few years depending on the size of the estate and the number of beneficiaries involved. If the will is missing or contested, it can take even longer. It's important to note that the executor of the will has a window of four years after the decedent's passing to begin the probate process, after which he or she will no longer be able to distribute assets to the beneficiaries of the estate.
Don't Get Stuck with a House You Don't Want
Chances are you just want this to be settled as soon as possible so you can get back to your normal life and grieve in peace without having to deal with the stress of what you're going to do with the property you've been handed. If you reach out today, we can help get you there in as little as a few weeks. Whether or not you decide to sell, Ezer will be on your side through it all.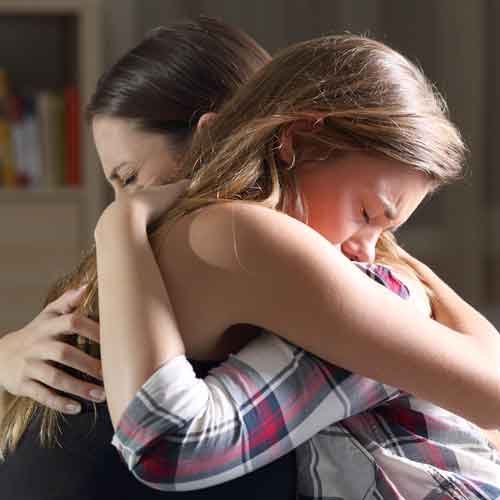 Need to sell a house you inherited? Reach out! We can help.
Do I have to fix up my house?
No, we buy houses as they are, blemishes and brusies included.
Do I have to pay for anything?
Nope! We can pay for everything: closing costs, title costs, repairs. All of it.
Can I stay in the house after I sell it?
We are always willing to give you time to move. If you need help with the moving, we can work that out, too.
Do I need a real estate agent?
No, you (probably) don't. We say probably, because if the best solution to your problem is to list your house on the MLS, we can provide an agent for you if you'd like.
What's the first step?
Simply fill out the form or give us a call. Everyone's situations is different and we are here to help find YOUR best solution and there is never any obligation.
We focus on the best solution to your problem, not just our bottom line.
Proudly Serving the Greater DFW Metroplex
Collin County
Allen • Altoga • Anna • Arnold • Beverly Hill • Bloomdale • Blue Ridge • Branch • Buckner • Carrllton • Celina • Chambersville • Chambliss • Clear Lake • Climax • Collin • Copeville • Cowley • Culleoka • Dallas • Deep Water Point Estates • Desert • Fairview • Farmersville • Fayburg • Forest Grove • Frisco • Frognot • Garland • Hebron • Josephine • Kelly • Lavon • Lavon Beach Estates • Lavon Shores Estates • Lebanon • Little Ridge • Lolaville • Lowry Crossing • Lucas • Marilee • McKinney • Melissa • Milligan • Millwood • Murphy • Nevada • New Hope • New Mesquite • Parker • Pebble Beach Sunset Acres • Pecan Grove • Pike • Plano • Prosper • Renner • Rhea Mills • Richardson • Rockhill • Roland • Royse City • Sachse • Sedalia • Shepton • Snow Hill • St. Paul • Trinity Park • Valdasta • Van Alstyne • Verona • Walnut Grove • Westminster • Weston • Wetsel • Winningkoff • Wylie • Yucote Acres
Dallas County
Addison • Balch Springs • Carrollton • Cedar Hill • Cockrell Hill • Combine • Coppell • Dallas • DeSoto • Duncanville • Farmers Branch • Ferris • Garland • Glenn Heights • Grand Prairie • Grapevine • Hutchins • Irving • Lancaster • Mesquite • Ovilla • Richardson • Rowlett • Sachse • Seagoville • University Park • Wilmer • Wylie
Denton County
Argyle • Aubrey • Carrollton • Celina • The Colony • Coppell • Corinth • Dallas • Denton • Fort Worth • Frisco • Grapevine • Haslet • Highland Village • Justin • Krugerville • Krum • Lake Dallas • Lakewood Village • Lewisville • Little Elm • Oak Point • Pilot Point • Plano • Roanoke • Sanger • Southlake
Parker County
Aledo • Azle • Cool • Cresson • Fort Worth • Hudson Oaks • Mineral Wells • Reno, Parker County • Springtown • Weatherford • Willow Park
Tarrant County
Arlington • Bedford • Benbrook • Blue Mound • Burleson • Colleyville • Crowley • Dalworthington Gardens • Euless • Everman • Forest Hill • Fort Worth • Grand Prairie • Grapevine • Haltom City • Haslet • Hurst • Keller • Kennedale • Lake Worth • Mansfield • Newark • North Richland Hills • Pelican Bay • Reno • Richland Hills • River Oaks • Saginaw • Sansom Park • Southlake • Watauga • Westworth Village • White Settlement
Wise County
Aurora • Bridgeport • Chico • Decatur • Fort Worth • Lake Bridgeport • New Fairview • Newark • Paradise • Rhome • Runaway Bay • Springtown