Pre-Foreclosure
and How to Stop the Bank From Actually Foreclosing on Your House

Facing Foreclosure?
We Can Help.
You're behind on your mortgage payments. Even though you're doing your best to make ends meet, the bank keeps hassling you. Then one day…BAM! You get a notice of foreclosure letter from your bank, complete with the date they plan to auction off your house. What do you do now?
You aren't the first person to go through a foreclosure, and you definitely won't be the last. These things happen in life. Financial situations change. You don't have to feel ashamed. But you do have options to avoid foreclosure. We'll help you figure out which one is right for you and provide you with the necessary tools and resources along the way.
Common Questions About Foreclosure
What is Foreclosure?
Foreclosure happens when a person takes a mortgage out on their home but fails to make the necessary payments on the loan, which allows the bank to repossess the property as collateral. 
Since banks are not in the business of owning houses, however, they'll turn around and auction it off to the highest bidder in order to recoup their losses.
What is Pre-Forclosure?
Pre-foreclosure refers to the period of time between when the bank files the initial foreclosure paperwork and the day of the auction. Here in Texas, banks are required to file foreclosure at least 21 days before the date of the auction (which takes place on the first Tuesday of each month.) Note, however, that some will refer to a home being 'in pre-foreclosure' as soon as the mortgage payments are 30, 60, or 90 days late.
How Does a Foreclosure Affect Me?
Foreclosure is probably the worst thing that can happen to your credit. Besides slashing your existing credit score, it will also appear as a red flag anytime you try to apply for credit of any kind in the future. This doesn't just mean credit cards and new houses. A foreclosure on your credit can even keep you from getting an apartment or a car—and it stays there for seven years.
But it's not just your credit. The effects of foreclosure can be devastating to you and your family. You will lose your home, and unfortunately, the bank isn't all that concerned with what you're going to do next or where you're going to live.
What Can I Do to Stop a Foreclosure in Texas?
Get in touch with us to get to speak with a foreclosure specialist and learn about all your options.
5 Common Ways to
Stop a Foreclosure
You may have heard that you can stop a foreclosure by declaring bankruptcy, but this is simply not true. While bankruptcy can delay a foreclosure, it is not a replacement for a long-term solution and will only end up worsening your credit score. Luckily, there are several strategies you can take to get out of a foreclosure and maintain control over your finances in the process. 
1 | Loan Modification (aka Loan Mod)
With a loan modification, you can go directly to the bank and ask them to add your past due amount and accompanying fees to the back end of your mortgage plan.
NOTE: With this option, your loan payments will increase. You'll have to be able to prove to the bank that your financial situation has improved from before.
2 | Sell to a Cash Buyer
Selling your house to a cash buyer can relieve the stress of pre-foreclosure immediately. Cash buyers will close quickly, put cash in your pocket, stop the consequences of foreclosure and give you time to move. Not sure you want to sell? We can create a buying contract that allows you to back out if you're able to bring the payments current on your mortgage loan. Click HERE to get your personalized cash offer from Ezer.
4 | Bring the Payments Current
This may seem like a silly option since you are already behind on your payments. But if you have a lump sum of money coming your way or if you have a way to borrow money (and be able to pay it back) this may be your best option.
5 | Deed in Lieu of Foreclosure
If none of the above seem viable in your situation, you can always approach the bank or lender with a deed in lieu of foreclosure. With consent, you'll be able to transfer ownership of the property back to the bank without the hassle of a full foreclosure. This way, you'll be free from debt and your credit score will be less affected than it would have been otherwise.
Time is Not Your Friend
If you're behind on mortgage payments and have already received a notice of foreclosure letter or are expecting one at any moment, it can feel like there's nothing left to do but give up and accept an uncertain future. If you're like most people, you were never taught what to do in this situation, or who to turn to. You have so many questions…more importantly, you have a deadline. That's why we're dedicated to giving you real solutions fast. Don't wait until the day of the auction — reach out now to find out how we can help you avoid foreclosure and save your credit score.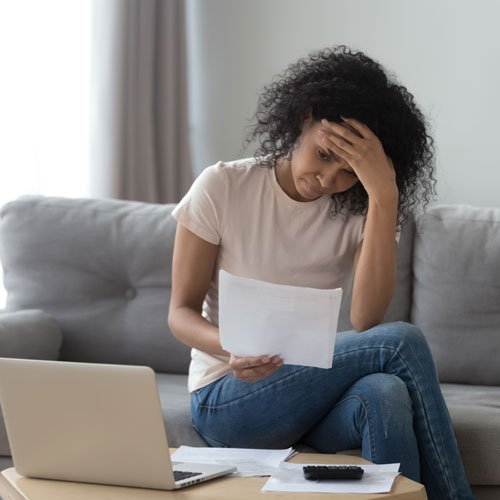 Facing Foreclosure? Reach out! We can help.
Do I have to fix up my house?
No, we buy houses as they are, blemishes and brusies included.
Do I have to pay for anything?
Nope! We can pay for everything: closing costs, title costs, repairs. All of it.
Can I stay in the house after I sell it?
We are always willing to give you time to move. If you need help with the moving, we can work that out, too.
Do I need a real estate agent?
No, you (probably) don't. We say probably, because if the best solution to your problem is to list your house on the MLS, we can provide an agent for you if you'd like.
What's the first step?
Simply fill out the form or give us a call. Everyone's situations is different and we are here to help find YOUR best solution and there is never any obligation.
We focus on the best solution to your problem, not just our bottom line.
Proudly Serving the Greater DFW Metroplex
Collin County
Allen • Altoga • Anna • Arnold • Beverly Hill • Bloomdale • Blue Ridge • Branch • Buckner • Carrllton • Celina • Chambersville • Chambliss • Clear Lake • Climax • Collin • Copeville • Cowley • Culleoka • Dallas • Deep Water Point Estates • Desert • Fairview • Farmersville • Fayburg • Forest Grove • Frisco • Frognot • Garland • Hebron • Josephine • Kelly • Lavon • Lavon Beach Estates • Lavon Shores Estates • Lebanon • Little Ridge • Lolaville • Lowry Crossing • Lucas • Marilee • McKinney • Melissa • Milligan • Millwood • Murphy • Nevada • New Hope • New Mesquite • Parker • Pebble Beach Sunset Acres • Pecan Grove • Pike • Plano • Prosper • Renner • Rhea Mills • Richardson • Rockhill • Roland • Royse City • Sachse • Sedalia • Shepton • Snow Hill • St. Paul • Trinity Park • Valdasta • Van Alstyne • Verona • Walnut Grove • Westminster • Weston • Wetsel • Winningkoff • Wylie • Yucote Acres
Dallas County
Addison • Balch Springs • Carrollton • Cedar Hill • Cockrell Hill • Combine • Coppell • Dallas • DeSoto • Duncanville • Farmers Branch • Ferris • Garland • Glenn Heights • Grand Prairie • Grapevine • Hutchins • Irving • Lancaster • Mesquite • Ovilla • Richardson • Rowlett • Sachse • Seagoville • University Park • Wilmer • Wylie
Denton County
Argyle • Aubrey • Carrollton • Celina • The Colony • Coppell • Corinth • Dallas • Denton • Fort Worth • Frisco • Grapevine • Haslet • Highland Village • Justin • Krugerville • Krum • Lake Dallas • Lakewood Village • Lewisville • Little Elm • Oak Point • Pilot Point • Plano • Roanoke • Sanger • Southlake
Parker County
Aledo • Azle • Cool • Cresson • Fort Worth • Hudson Oaks • Mineral Wells • Reno, Parker County • Springtown • Weatherford • Willow Park
Tarrant County
Arlington • Bedford • Benbrook • Blue Mound • Burleson • Colleyville • Crowley • Dalworthington Gardens • Euless • Everman • Forest Hill • Fort Worth • Grand Prairie • Grapevine • Haltom City • Haslet • Hurst • Keller • Kennedale • Lake Worth • Mansfield • Newark • North Richland Hills • Pelican Bay • Reno • Richland Hills • River Oaks • Saginaw • Sansom Park • Southlake • Watauga • Westworth Village • White Settlement
Wise County
Aurora • Bridgeport • Chico • Decatur • Fort Worth • Lake Bridgeport • New Fairview • Newark • Paradise • Rhome • Runaway Bay • Springtown